I'm at 42k right now, only 1k behind the suggested daily total. It would be very satisfying to get above the line again, but I was falling asleep while writing. It's not easy to remember where I am in the scene, if I fall asleep while trying to write it.
So I'm gonna get ready and go to bed. Seems the only logical option.
It really is tempting to write another 1k and make it above the line. But I'll save that for tomorrow.
My progress so far: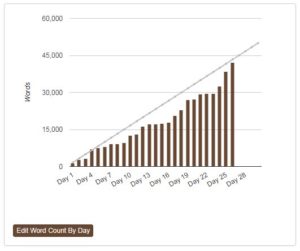 Hang on when the water is rising
Hang on when the waves are crashing
Hang on, just don't ever let go
Hang on when you are barely breathing
Hang on when your heart's still beating
Hang on, just don't ever let go